WORKSHOP PARTICIPANT INFORMATION
Help build a future for the past by joining Heritage Conservation Network on one of our unique volunteer vacations. Volunteer participants are the strength of our program, and their enthusiasm brings success to each project. Whether your interest is architecture, art history, or historic preservation; or you enjoy cultural exchange, alternative travel experiences or volunteering for a good cause, working on an HCN project will be a memorable and rewarding experience.
HCN's workshops are held around the globe and offer the opportunity to work with a variety of historic materials and types of structures while getting to know a diverse group of international participants. Participants with all levels of experience work side-by-side with community members under the guidance of a building conservation specialist to restore a significant historic structure. The expert teaches and guides participants as they work to save a piece of the world's cultural heritage.
Some participants return home and apply their newly learned building conservation skills to a project within their community or to their own historic home. Others participate to share their passion for assisting a project in need. The hands-on experience gained at an HCN workshop can provide valuable independent study experience for students in preservation or architecture and provides mid-career education for those already working in the field.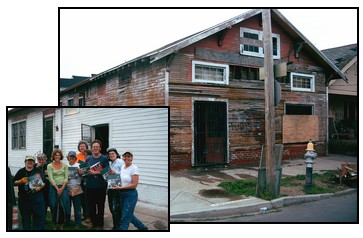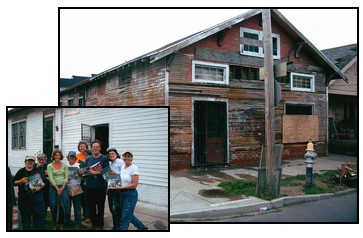 Below are some frequently asked questions about our workshops.
WHO ATTENDS AN HCN WORKSHOP?
STUDENTS needing internships or work experience
ARCHITECTS wanting an opportunity to work with historic materials
PRESERVATIONISTS and CONSERVATIONISTSwanting to learn a new skill or exchange ideas with specialists from other countries
COMMUNITY MEMBERS wishing to help preserve the history of their community
TRAVELERS who enjoy an active adventure while experiencing new cultures
VOLUNTEERS lending a hand for a great cause
WHAT EXPERIENCE DO I NEED?
No experience is necessary to participate in most HCN workshops. Training is provided by preservation experts at the site, and there are tasks for all levels of experience. Occasionally, due to site restrictions, a workshop will be designated for mid-career professionals only.
WHY DO I PAY TO VOLUNTEER?
HCN and the local organizations and projects we partner with have limited resources and are seldom able to subsidize your trip or cover the costs of hosting you. The workshop fee covers the cost of your accommodation, some meals, fieldtrips, workshop materials and insurance. A small amount helps to pay the expert leading the work to provide a quality educational experience, and less than 5% of your program fee goes toward overhead and administration. As you can imagine, the costs of developing projects, recruiting volunteers, producing literature, answering email, maintaining our website, and so on mount up quickly.
HCN is a 501 (c) (3) tax-exempt corporation under the U.S. Internal Revenue Service. The majority of your program fee is tax-deductible (for U.S. tax payers), as are other expenses related to your HCN volunteer work such as your airfare, trip cancellation insurance, and other such expenses. Check with a tax consultant or the IRS to determine the exact amount that is deductible.
WHAT DO I NEED TO KNOW?
WORKSHOP FEES cover lodging, breakfast and lunch, insurance, and workshop materials unless otherwise noted. Fees vary for each workshop, so be sure to check the Details page for information.
LODGING is usually at a Bed & Breakfast or small local hotel. As an organization, HCN supports sustainable tourism initiatives and therefore prefers to house workshop participants in facilities which have similar goals.
TRAVEL COSTS to the workshop site are not included in the fees and are the responsibility of the participant.
SHORT-TERM INSURANCE is purchased for workshop participants to supplement their own coverage in case of illness or injury. For workshops located in the U.S., this insurance is currently unavailable for those over 65 years of age. People in that age group may still register if they are able to sign a waiver stating that they have adequate insurance coverage. Insurance is available for all age groups at workshops held outside of the U.S.
WORKSHOP DETAILS are provided on the Details page for each workshop listed under Workshop Series.
A VISA may be required to travel to a workshop site depending on your country of origin. Please be aware that the visa application process may be lengthy, taking up to 6 months. Before registering for a workshop, it is best to check visa requirements via government websites or by calling the embassy nearest you. Each workshop Details page has specific visa information for that location. Participants are responsible for obtaining their own visas.
REGISTRATION is completed directly from our web site. Start the registration process by clicking a Register button anywhere on the site. [See detailed instructions below.]
PAYMENT is due in-full no later than 30 days prior to the start of the workshop. A non-refundable deposit equal to half the total workshop cost must be paid at the time of registration to reserve a place at the workshop. This deposit may be transferred to another workshop if the registrant must cancel. Payment by check or money order is preferred; all payments must be in US dollars. Payment is also accepted by credit card (via PayPal).
CANCELLATIONS that occur prior to 30 days before the start of the workshop will result in refunds of half the fees; the deposit is non-refundable, but may be applied to another workshop. No reimbursement is possible if cancellation occurs after this date or during the workshop. We strongly recommend the purchase of trip cancellation insurance.
REGISTERED PARTICIPANTS will receive an information packet several weeks prior to the start of a workshop.
WHAT HAPPENS DURING A WORKSHOP?
Your HCN experience is more than an ordinary vacation – it's an adventure. Each workshop is unique but they all have a similar structure. Your week will begin with a get-together and meal on the day you arrive. This is your first chance to meet the other intrepid travelers you will be working and touring with during the workshop. The meal is followed by a site orientation, including an overview of the history and a description of what the project entails.

After breakfast and coffee the next morning, the actual work starts with a demonstration of the particular skills needed to begin the planned conservation work. As work progresses, there are usually several activities underway, and participants may choose depending on their specific interests and abilities. More coffee, cooperation and the exchange of ideas keeps the day lively. Work takes place Monday through Friday with time taken out for a half- or full-day field trip to tour historic sites in the area. If participants attend a workshop for two weeks, the weekend is also available for sight seeing.

As anyone who has worked on historic buildings knows, surprises are to be expected. The building's secrets, uncovered during the course of the workshop, often provide interesting discoveries and may alter the planned schedule of work. The agenda sent to participants before the workshop will very likely see some changes.
HOW DO I REGISTER?
Our online registration process allows you to register and pay online (via PayPal), or register online and mail a check or money order. Payment by check or money order is preferred. In either case, after filling out the registration form you will need to print the form, and sign and mail the Registration/Waiver form to HCN. Click on any Register button on the site to start the process. If you prefer to complete a registration form by hand, call or email us to request registration materials. Early registration is encouraged, not only to ensure you have a spot in the workshop of your choice, but also to allow HCN to estimate the amount of work that may be accomplished during the workshop.
If you are interested in attending a workshop, but not quite ready to commit, let us know and we will add your name to the workshop roster. We will hold your space until 45 days before the first day of the workshop.
It is expected that those registering will be in generally good health, but don't hesitate to register if you have some restriction as each person is only expected to participate to the level of his or her ability.
WHAT ELSE DO I NEED TO KNOW?
HCN can organize a customized workshop for your group. If you have a particular material, skill or location you would like addressed, send us the details. All workshops provide an excellent opportunity for networking, sharing ideas and broadening your perspective, so join us for a rewarding experience saving architectural heritage around the world.
If you have any other questions, please contact us.